SIMCO Opens European Operations Headquarters in Ireland
November 18, 2016 -  SIMCO is proud to announce the opening of its European Operations Headquarters in Athlone, Ireland to provide quality calibration and software services to technology organizations in Ireland and Europe.
SIMCO's new Ireland facility is a state-of-the-art calibration lab and hub for services provided across Europe. While SIMCO has provided field service in over 20 European countries for many years, the new facility allows SIMCO to provide additional quality calibration and repair capabilities and fast turnaround times for European clients.
"SIMCO is delighted to extend our award-winning calibration services to Ireland and Europe," says Brian Kenna, CEO of SIMCO. "We look forward to serving the global needs of many of our biomedical and technology customers and supporting their corporate-wide compliance and quality programs."
The SIMCO Ireland lab provides a broad range of calibration and repair capabilities and has full access to the capabilities of SIMCO's worldwide network of accredited calibration labs. The facility will provide free pickup and delivery services to all customer locations in Ireland, including Dublin, Cork, and Galway, as well as field service throughout Europe.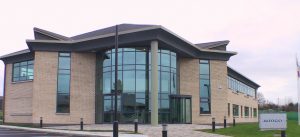 More information about SIMCO's new European Operations Headquarters is available on the SIMCO Ireland page.