Push Program for Field Service Organizations
Comprehensive calibration and maintenance services for Field Service Engineers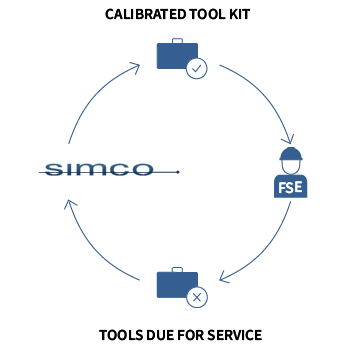 Zero Downtime in the Field
SIMCO's pioneering Push Program makes Field Service Engineers (FSEs) more productive by ensuring their tools are up-to-date, accurate, and always available. Program benefits include:
Eliminates FSE downtime during tool servicing
Keeps FSEs current with tool upgrades
Reduces tool-related costs
Program Benefits
When you sign up for the Push Program, SIMCO manages the entire process for you in order to enable Field Service Engineers to continue their tasks without interruption.
Through the program, SIMCO will:
Manage tool inventory, shipping, handling and servicing
Service uncalibrated FSE tools and add them to inventory
Refurbish and upgrade tools to extend their life
Retire and replace tools at end of life
SIMCO uses cloud-based CERDAAC software to track all:
FSEs including contact information, certifications
Tools including version, location, status, owner
Services including calibration, repair, upgrade
Key metrics critical to overall program success
Simplify Instrument Services for Field Service Engineers
Learn more about how the Push Program works to eliminate downtime for field service engineers and reduce costs for organizations. Fill out the form and one of our representatives will reach out to you to assess your needs and provide more information.
Interested in SIMCO Calibration Services? Request a quote and one of our representatives will work with you to meet your organization's needs.