Quality Management System
Exceeding the industry's most demanding quality standards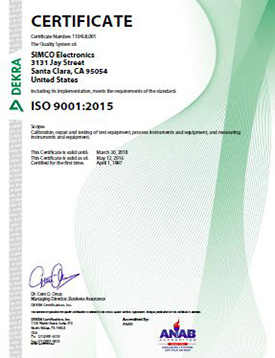 SIMCO's Quality Management System has been carefully refined over the years to not only meet, but to exceed the industry's most demanding quality standards and ensure your instruments are properly calibrated to perform within specifications.  SIMCO's Quality Management System is based on:
Consistent Procedures
SIMCO's QMS software ensures all of our 20 labs and field service teams use the same approved calibration procedures.
Manufacturer Level Procedures
Many of SIMCO's procedures are the same procedures performed by the instrument manufacturer.
Software Automated Quality Checks
Our QMS software systems provide automated quality checks and enforce mandatory standards compliance.
Continuous Improvement Process
Our continuous monitoring and improvement process includes system-based metrics and alerts, customer satisfaction surveys, employee training, company-wide Opportunity For Improvement program, and regular Program Health reviews.
Learn more about SIMCO's Accreditation and Certification.