Service Manager - Use Trace Information
Use Trace
… a powerful feature in CERDAAC Service Manager that provides full auditable traceability of what individual test and measurement instruments have been used on your products or research projects.
Download a Use Trace PDF datasheet by completing the information to the right.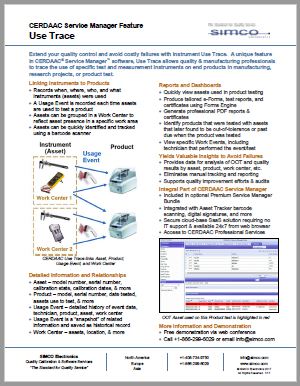 More about Service Manager
CERDAAC Service Manager is an advanced cloud-based software service that provides complete calibration and maintenance program management and comprehensive asset management.
When combined with the Compliance Module, Service Manager helps life science companies comply with regulations and is validated for compliance with FDA 21 CFR Parts 11 and 820.
Learn more about CERDAAC Service Manager
Please fill out to download the PDF infosheet: